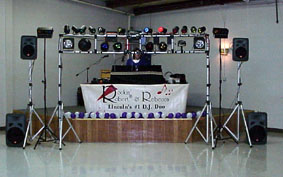 The DJ show was created by accident way back in 1986.
An old friend of ours just reopened a bar out on Hwy. 6 & 84th Street. It had originally belong to her father, Stan and was called "Stan's Lounge." It had been leased out a lot too, I forget how many managers went through there along with just as many bar names over the past few years. Well, it was now back to the original family and the original name, "Stan's Lounge."
They hired a new DJ and fired them the same night he started. "What to do, oh, what to do." Rebecca and I were in the lounge for that first week and the owner knew we had lots of records, but no DJ experience. She asked if we would be interested in filling in for a while until they could find a regular DJ.
Rebecca jumped right on that idea.
And we went home, tore apart our nice stereo system, 100 watt per channel SAE amp, Marantz turntable, Jensen 3 way speakers, Sharp computerized auto search cassette deck, Yamaha headphones, and bought an old Shure mic.
Now as Rebecca tells the story, the mic was a waste of money. I was way too shy to even think about turning it on, let alone saying anything. And when she did get me to say something it was awful. I didn't know what to say. I didn't know anything about the songs or the artist. I was anything but a DJ. Rebecca grew up with music and in her era, everyone learned the history of the song, the history of the artist, the little things about "cover notes," and all of that trivia stuff. When I grew up we listened to the radio – (AM Radio) – and that was it. I didn't care about any of the trivia stuff. If I heard a song and liked it…. that was all. Why would I ever need to know any of that? (I said the same thing about Trig and Calculus).
Late at night, after a show, Rebecca would turn on the radio (FM Stereo) and quiz me on the song titles and the artists and the era (not the exact year) as I was going to sleep. Imagine what kind of dreams that can make! As the year went on we filled in for the lounge 2 or 3 times a month. Then came along a lounge that was looking to change from country to old Rock'n Roll.
The Holiday Inn – Northeast
The idea of going into a lounge (called Pardner's) and changing it from country to rock without any announcement to the regular crowd reminded me of the old "WKRP" Dr. Johnny Fever show where he scratched the record and started to rock. I still laugh when I think about it. Well, that is just what we did every Thursday, Friday & Saturday and we made a lot of new friends and we made a few enemies (the old country dancers were not very happy.) They wouldn't let us play any country and that was just fine with me. I didn't know anything about any country music in 1988. The gig at the Holiday Inn went for over 18 months. During that time we learned a lot about dance music, crowd participation, equipment, sound & lighting and working with bar staff & management. We also saved our money and converted from albums, 45's and tapes to dual CD-Players and a whole whopping 90 CD's. (At the time it seemed like a lot…and it was, because CDs were a new thing). We didn't use any of our own equipment (except the CD-players and our music) at the Holiday Inn so we built up a system to use for private parties. Grundorf case, small amp, Gemini Mixer, JBL G714 speakers, two Ultimate speaker stands, two professional turntables, dual CD-players, and a small Stagecraft lighting array. It was a very nice setup for the times.
Off into the Mobile DJ World
We got our first "private" gig, a monthly single's dance, sponsored by Parents Without Partners. They used to come out to the lounge to dance. It must have been better than whoever was doing it before because we did those once a month dances for years and years. And we loved them! We could really let our hair down, relax and get to know the regulars.
In the early days, we only had two or three jobs a month and whenever I needed to haul equipment I would rent a small enclosed trailer and hook it to the back of my little gold Honda Civic. As things grew, I finally had to buy a station wagon in order to carry this growing company's equipment. (It really did seem like a lot back then).
Up to 1999'ish
Our music CD library grew to 300 discs and we invested in a Univenture Case configuration. Up to 400 CD's in vinyl sleeves fit into each suitcase style case. Currently we have over 1000 Music CD's in three Univenture cases.
The light show grew to the point of having Ultimate Support custom build us a trellis system. Two 5 ft. pieces of dual rows of tubing that I designed to fit together and make a 10 ft. lighting trellis that sits on top of two Ultimate supports. Currently it holds 4 pin spots for the mirrored ball, 8 pin spots for the floor, 4 par cans for flood fill and color scenes, two large strobe lights (synchronized), one vertigo, and one laser. I still use the original Stage craft border cans and controller for the flood scenes, a 4 channel controller for the mirror ball lights, and an 4 channel controller for the floor spots.
Had to buy our first Chrysler minivan to hold the lighting array. We are now on our 3rd minivan and still with Chrysler.
Somewhere along the line, we went to a bi-amped system with a Rane stereo crossover. New JBL 15″ bass speakers and still using the original JBL G-714 for the uppers. I added another Carver amp to run the bass speakers. It wasn't long before we matched the bass speakers with a new set of JBLs.
The Grundorf cases grew to three. Two slant top DJ mixer cases and one 6 rack space amp case. Two large foot locker style Rubbermaid trunks, six medium Rubbermaid tubs, a suitcase and a briefcase.(Always wanted to do a commercial for Rubbermaid!)
The microphones grew and grew (Yes, I do talk now as I outgrew my shyness). I fell in love with a Sennheiser studio mic and attached it to a small goose neck on my Grundorf case. Rebecca was using a Shure Beta 58 on a mic stand. I no longer use the Sennheiser studio mic for myself. Instead, I use a Sennheiser Headset connected to a Shure UHF wireless system. We run a second UHF wireless with a Shure Beta 87 hand held for the best man's toasts and the like. Rebecca uses the handheld Shure wireless on a small gooseneck attached to the Grundorf in front of her. (The regular singers at the karaoke shows love to use the Senheiser studio mic which we put on a mic. stand next to the TV.)
We added karaoke to the weddings and private parties. We started out with about 200 songs, a HOSA dual well CD+g deck with HOSA mic mixer/key changer and just merged it into our DJ setup. Now we have three karaoke systems, a rental systems and our original KJ/DJ system and three CD+g libraries with over 8400 song titles in Library #1. We also added two small light shows to be setup with the karaoke shows. Nothing to interfere with the singers, just a small mirrored ball, one vertigo pointed to the ceiling and a red police style beacon we use for "Red Light" drink specials.
The DJ retirement years 1998 – 1999:
1999 is the wind down year. We had two other karaoke hosts working for us doing the week nights and some of the weekend shows. Rebecca and I will still do karaoke on Fridays & Saturdays but we are not booking any DJ shows after September of 1998. Twelve years of DJing is enough for anyone, but we had a fantastic time doing it. With the big light show and all, it takes us two hours to setup the DJ show and about an hour to tear it down. And it seems that the wedding receptions are just getting longer & longer and the expenses just keep getting higher & higher. We still love to do a great wedding dance, it's just that it is getting to be too much…..
When you are a disc jockey, it is your job to entertain the audience. When you are a karaoke host all of the singers entertain you. Well, okay, we like to think we're entertaining too! We believe that our karaoke shows are some of the best around because of the regular singers and because of the extras we provide to the shows. (A little of that ol' DJ personality doesn't hurt either!)
Robert's Retirement 2006 – Present
Robert needed to retired from the DJ/Karaoke/Bar life.
However, Rebecca continues to do the best Karaoke Kraze shows that Lincoln Nebraska has ever seen.
Stop out and sing a song or two.